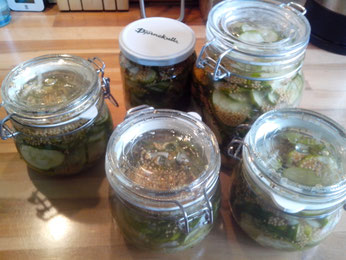 I pickled 4 kg cucumbers. Here is the recipe!
Pickled cucumbers typical Swedish style - sweet-sour.
They are called Smörgåsgurka in Sweden. 
Maritas eingelegte Gurken
1 kg cucumbers
1 dl dill, chopped
1 yellow onion
1/2 tablespoon white pepper seeds
3 tablespoon mustard seeds, yellow
2.5 dl vinegar, 12%
4.5 dl of water
4.5 dl sugar
0.75 dl Salt
If you do not tolerate pepper, just like me, don't add it, it tastes wonderful without too!
The onion is also optional, but it refines the taste.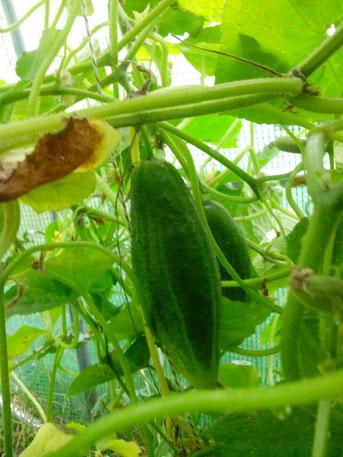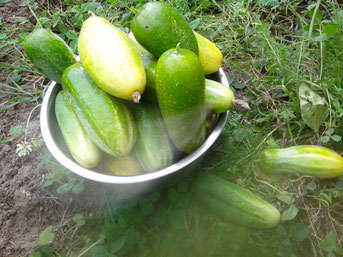 Now add the onion rings and the cucumber slices to the liquid in the pot and stir well.
Cover the pot and stir once in a while.
Leave the pickled cucumbers about a day in the pot, then they have dehydrated themselves a bit, have shrunk a little shrunk and gotten soft.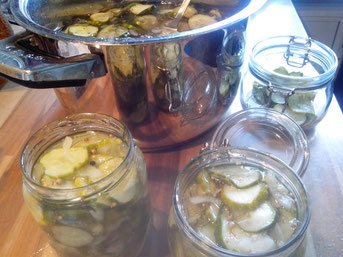 Wash the cucumbers and cut into thin slices of 2-3 mm.
Peel the onion and cut into rings, halve rings.
Put the water, vinegar, sugar, salt, peppercorns, mustard grains and dill in a large pot and stir until the sugar has dissolved.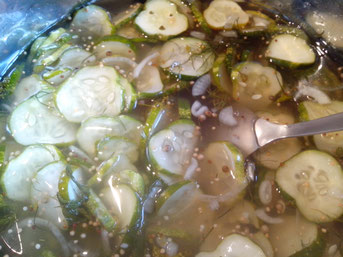 Fill the cucumbers with a large spoon in clean glasses or jars.
Remove the remaining grains, dill and onion with a small sieve and share out to the jars.
Fill up the jars with the marinade, the cucumbers should be covered and the glasses should be really full. 
Turn the well-closed glasses upside down once and then leave  the pickled cucumbers at a cool, dark place for about 3 weeks.
Enjoy the pickled cucumbers on bread or just directly from the glass!
Bon Appetit!
The pickled cucumbers last many months, even if opened, but keep them stored in the fridge.
To pickle cucumbers is nothing that would be financially advantageous. In the end the costs come out of the same as if you buy picked organic cucumbers. But you know exactly what you eat and you get a special taste you will not find on the shelf.
---
Alle meine Filme sind selbst finanziert. Bitte erwäge, Patron zu werden und Zugang zu speziellen Inhalten wie Videoclips, Bildern, Vlogs und mehr auf Patreon zu erhalten:  Patreon
Du kannst auch eine einmalige Spende abgeben. Jeder Euro zählt in meinem Selbstversorger und Künstlerleben! Spenden
Auch Saatgutspenden und mehr.
---
All my videos are self funded. Please consider beiing a patron and get access to special content like video clips, pictures, vlogs and more on Patreon: Patreon
Or support/donate: More here!
---
---
---
---
---
---